The Cash Mob is from 3 to 7 p.m. Picnic is anytime, but many are coming between 5 and 7 for dinner. Grab something to eat and a seat, and join us!  
Medford Farmers Market vendors for Thursday, July 30: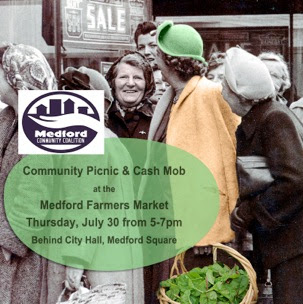 Ackerman Maple Farm: maple syrup and treats 
Adey Foods: home-cooked Ethiopian specialties to eat on the spot or take away 
Bagel Land: NY-style bagels and baked goods
Brigham Farm: plants and vegetables
Clearview Farm: fresh, local produce  
Coastal Vineyards: local wine  
Deano's Pasta: pasta and ravioli  
Good Roots Farm: organic vegetables
Mozzarella House: local, handmade mozzarella  
Roma's Bakery: bread, sweet and savory pies, cookies  
Spring Brook Farm: fruits, vegetables, honey  
SwissBäkers: fresh pretzels, breads, sweets   
Whole Foods Market: sandwiches and beverages 
PLUS: FOOD TRUCKS 
The Farm Stand Food Truck: healthy, organic foods to go  
Roving Lunch Box: sweet and savory hand pies, salads, and soups 
BUT WAIT! THERE'S MORE!    
Sarah Blacker will serenade you with live music while you dine alfresco. See you there! 
The Medford Farmers Market runs 3 to 7 p.m. Thursdays through October 8, 2015, at One City Hall Mall, behind City Hall, in Medford, Mass.